About AR/VR Experience Centre
Directorate of Human Resource Management, LUVAS, Hisar has established Augmented Reality/Virtual Reality (AR/VR) Experience Centre as a part of the National Agricultural Higher Education Project (Component 2), ICAR-Indian Agricultural Statistics Research Institute (IASRI), New Delhi. This Centre is under new initiative entitled "Resilient Agricultural Higher Education System (RAES)" of ICAR and World bank. ICAR-IASRI is the lead centre and has on boarded an agency for supplying the AR/VR kits and design and development of AR/VR-based Learning Modules.
Dr. S. S. Dhaka, Director, HRM coordinated with NAHEP team for AR/VR setup at LUVAS and subsequently received six VR kits which have been installed via online training from ICAR-IASRI, New Delhi. The VR experience captures beautifully different aspects of agriculture and veterinary sciences.
Nodal officer: Dr. S. S. Dhaka, Director HRM
Technical Resource Person: Dr. Yogesh Bangar, Scientist (AGB)
Inauguration of AR/VR Experience Centre was done by Worthy Vice-Chancellor Prof. (Dr.) Vinod Kumar Verma, LUVAS along with officers of the university.
Augmented Reality and Virtual Reality
Augmented Reality (AR) and Virtual Reality (VR) are two technologies that are changing the way we use screens, creating new and exciting interactive experiences. Augmented reality allows you to see the world around you with digital images layered on top of it. There are a variety of Apps that use AR, including some that allow you to translate text using your camera, identify stars in the sky, and even see how your garden would look with different plants. Virtual reality uses a headset to place you in a computer-generated world that you can explore. These headsets also use a technology called head tracking, which allows you to look around the environment by physically moving your head. The display will follow whichever direction you move, giving you a 360-degree view of the virtual environment. Both AR and VR technologies are growing at a pretty rapid pace. Many experts predict that they will continue to become more and more popular in near future. As technology becomes more advanced, it will be exciting to see how they will be applied to education, business and everyday life…!!!
VR MODULES AVAILABLE
| | |
| --- | --- |
| 1. CIFE Fish Dissection and Anatomy | 2. GBPUAT Seed Lifecycle |
| 3. ICAR Farm Sun fridge | 4. ICAR Hydroponic Systems |
| 5. ICAR Oculus 2022 | 6. ICAR Phenomics |
| 7. ICAR Poly-House-Rough | 8. ICAR Protected Cultivation |
| 9. ICAR Sugarcane | 10. IVRI Uterine Torsion |
| 11. NDRI Assisted Reproductive Technology | 12. UAS Advance Irrigation Methods |
Meta quest VR headset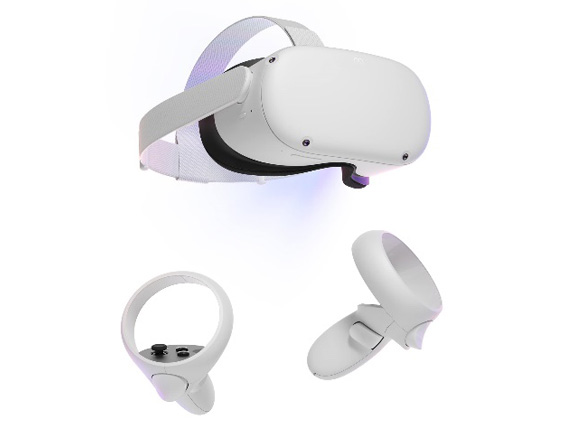 Students experiencing VR modules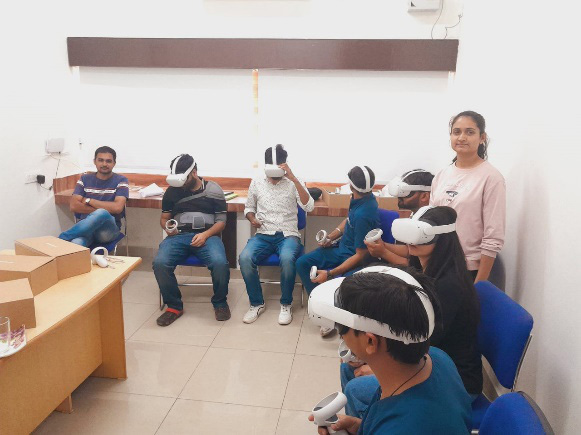 Instuctions for use of VR headset
Press the "Start button" on right side of the headset
Wear headset and take control of controllers in right and left hands
Set roomscale boundary with help of index finger (right/left)
Confirm it
Draw roomscale boundary with help of index finger (or you may "re do" stationary boundry)
You will see main window consisting toolbar
Select "VRVU" icon located on right side of toolbar
Select any "VR module" out of 12 VR modules
Example: "Uterine torsion"
Click on three arrows on the bottom side
You may increase/decrease volume by pressing button placed on bottom side of headset.
To return, press 0 on the right controller.
Switch-off the headset by pressing the "Stop button" on right side of the headset
Please clean Headset with tissue after use.