Address
College of Veterinary Sciences,
Block- 2 (Old Animal Science College building),
LUVAS, Hisar - 125004, India
Contact
Phone: 01662-289599 (O), 256073, 6073 (Internal)
E-Mail : dee.dir@luvas.edu.in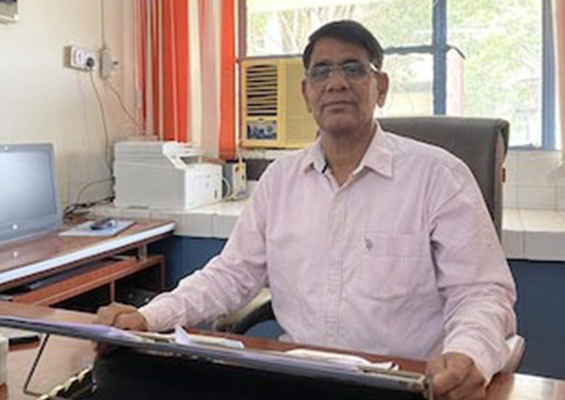 The establishment of the University on 1st December, 2010 was an important event in the glorious history of livestock husbandry of the 'State of Milk and Murrah', that is, Haryana'. Demand of livestock products, especially milk and its products, is becoming higher than its supply. As the gap is almost unbridgeable, the need of usage of innovations to enhance milk production is one of the top challenges of the food sector. Haryanvi livestock owners and entrepreneurs have invested in an intensive fashion in dairy sector. This has resulted in sharp increase in livestock intensity per household and number of 'smallholder high-tech dairy units' per village have been increasing at a brisk pace due to favourable policy regime created by the State Government. At this opportune moment of the livestock sector, the university has come into being. The University is determined to put in place a robust, modern and responsive 'knowledge support systems (KSS)' which should create not only a bridge between livestock owners and scientists at the University but it rather should be able to become a very much accessible, very responsive and modern 'livestock knowledge exchange'- amongst livestock owners, livestock entrepreneurs, other stakeholders, state government departments and agencies with various organs of the 'Directorate of Extension Education'. The Directorate should therefore be able to respond to issues pertaining to important developments and also could provide support to test novel technologies, so that farmers and/or livestock owners are not alone to face the newer 'challenges and problems'. For the 'hardworking and innovative farmers and livestock owners', therefore, the Directorate aims to provide 'handy and satisfactory solutions'. Innovative system of livestock extension education proposes to integrate multiple-agencies, departments of government and other relevant organisations so as to create an effective system of delivery of livestock services.
Extension is one of the pillars of the University and the Directorate of Extension Education (DEE) is primarily an 'outreach service of the University' meant to serve farmers', livestock owners' and livestock entrepreneurs'. The main function of Directorate of Extension Education is to plan, coordinate, organize and guide the extension education programmes in the University and at out stations and to ensure efficient working of the extension education activities in close coordination with the State departments, voluntary and private organizations. Under the aegis of Directorate of Extension Education, the work of the field extension is mainly carried out through Head Quarter at Hisar, Pashu Vigyan Kendras (PVKs) and Haryana Pashu Vigyan Kendras (HPVKs) at outstations.
We wish great success to all the endeavors of the innovative farmers and hope that an 'innovative system of animal husbandry extension education' shall be able to transform livestock sector as one of the most vibrant and dominant contributor to the economy of the state.
Constituent units of Directorate of Extension Education:
Pashu Vigyan Kendras (PVKs): The Directorate of Extension Education with its Headquarter at Hisar and Pashu Vigyan Kendras (PVKs) situated across Haryana is determined to create a bridge between livestock community and the scientists of the university. These PVKs are located in Sirsa, Rohtak, Bhiwani, Jind, Kaithal, Ambala, Sonipat, Palwal, Gurugram and Rewari districts of Haryana state.
Livestock Technology Information Centre (LTIC): The centre serves as a single window delivery system for the information, services and products developed from this University to the needy farmers.
Activities conducted by Directorate of Extension Education: Without scientific knowledge and skill livestock farmers are not able to get the desired production and income from their farms. New technologies developed in different areas of Veterinary, Animal Sciences, Poultry and Fisheries are to be effectively communicated to the livestock farmers who are the ultimate beneficiaries of such technologies. Keeping this point in mind, the directorate regularly organizes vocational dairy farming, poultry farming, pig farming and sheep & goat farming training programmes for farmers, unemployed youth, women and underprivileged sections of the society. These trainings are conducted at the campus, PVKs and HPVKs of LUVAS.
For the benefit of the farming community, a Pashupalak Kisan Call Centre and Free SMS Service has been started for telephonic consultation/advisories to farmers as per queries. Unit level Pashupalak Kisan Mela cum Clinical Camps, Pashu Palak Ghoshti, exposure visits, method demonstration, on farm trails, front line demonstration etc. are also organized by the Directorate. Animal Husbandry Officer's Workshop for Officers of State Animal Husbandry and Dairying Department is also organized for updating their technical knowledge. Special programmes on world veterinary day, world zoonosis day, world rabies day and other important days are also organized by the directorate for benefit of farming community as well as for school children. The University regularly publishes technical updates and other knowhow for the farmers in its half yearly magazine 'Pashudhan Gyan'. This magazine is registered with the Registrar, Newspaper of India. In addition to this various Hindi booklets and Pashupalak Calender (for monthly activities) are also published by the university. Directorate has developed Snake & ladder game and breeding calendars of cow and buffalo for easy and better understanding of animal husbandry practices by farmers.
In addition to this tailor-made on campus and off campus capacity building programmes structured to impart specific skills are being conducted regularly for the beneficiaries of sponsoring agencies like ATMA, NABARD etc.
| | | | |
| --- | --- | --- | --- |
| Name of Faculty | Designation | Contact Number | E-mail Contact |
| Dr. Sajjan Singh | Extension Specialist | 94681-67795 | ssbrar1967@gmail.com |
| Dr. Sarita | Extension Specialist | 98131-98147 | saritakhatri52@gmail.com |