Veterinary Parasitology

About Department
The Department of Veterinary Parasitology is carrying mainly three activities i.e. Teaching, Research and Extension.

In teaching, various courses on parasitic diseases of domestic animals and birds are being taught to the undergraduate as well as post graduate students to award their degree program. For post-graduate students viz both M.V.Sc. and Ph.D are being guided and respective degrees are being awarded.

In research, various research activities are being carried mainly in three sub-discipline i.e. Vety. helminthology, Vety. entomology and Vety. protozoology. The prevalence, pathogenicity, treatment and control of various parasitic diseases are also being explored and the suitable drugs as well as other preventive measures are being recommended for field use.

In extension, participation in kisan mela is being carried by the department every year and the queries of the farmers at the stall as well as in the buzz session are being attended. Various clinical camps are being attended/ organized for the control of parasitic diseases in different nearby villages. The general awareness regarding the seasonal occurrence, deworming schedule etc is also being imparted to the farmers. Various radio and TV talks on most commonly occurring parasitic diseases of domestic animals and birds are also delivered from time to time. Lectures are delivered in training to farmers, women, veterinarians and army persons. Popular articles are published in various state and national level magazines.

Head of the Department :

Dr. Sukhdeep Vohra
Principal Scientist and Head of Department
Phone (O): 01662 – 256124
E-mail: hod.vpa@luvas.edu.in
| | |
| --- | --- |
| Mr. Sandeep Kumar | Assistant |
| Mr. Sanjay Kumar | Steno-Grapher |
| Mr. Deepak Singh | Lab Assistant |
| Mr. Surjeet | Lab Assistant |
| Ms. Pooja | Messenger |
| Mr. Ajay Kumar Rana | Laboratory Attendant |
| Mrs. Bala | Sweeper |
Important parasites affecting livestock in Haryana have been identified. The critical periods of the year with maximum load of parasites like amphistomes, fasciolids and strongyles have been elucidated for proper control measures. Effective anthelmentic schedules for above parasites have been developed.
A forewarning system for Haemonchus contortus and Trichostrongylus spp. has been prepared based on biohythergraphs.
Haemonchus contortus, the predominant gastrointestinal nematode has been found resistant to tetramisole hydrochloride, fenbendazole and morentel in some sheep flock of both organized and unorganized sectors of most of the districts of Haryana and also to closantel and rafoxanide in organized sector.
Incidence of visceral schistosomosis due to Schistosoma indicum is increasing year after year in sheep of eastern Haryana. Praziquantel @ 25mg/kg b. wt orally, successfully treated visceral schitososmosis, which was known to have no effective treatment so far.
Strongyloidosis was found to be major helminthic problem in buffalo calves under organized management system. Commonly used anthelminthics proved ineffective, whereas ivermentin proved effective against such infection.
Sixteen species of ixodid ticks belonging to 5 genera and 2 species of soft ticks parasitizing various species of livestock and poultry in Haryana have been reported. A new species Nosomma monstrosum infesting buffaloes has been reported for the first time in the state.
Effective acaricidal control of various tick infestations and mange infestation in camels, sheep and dogs have been devised based on in vitro and in vivo trails on various acaricidal agents. Recommendations have been transmitted to the beneficiaries through tips to Vets, Haryana Kheti / Haryana Farming.
An effective method for strategic control of tick infestation in cattle has been devised which has been adopted by many Gaushalas and organized farms.
Different components of Hyalomma anatolicum and H. dromedarii ticks have been tried to introduce protective immunity, the whole ticks extract and midgut antigens have shown promising results.
The techniques for assessment of Theileria infectivity of field collected Hyalomma ticks have been standardized and used for epidemiological studies on bovine tropical theileriosis to know the Theileria-transmission potential of various Hyalomma ticks.
Antibody based immunological tests for diagnosis of tissue phase toxocarosis in buffaloes have been standardized.
Flumethrin pour-on preparation @ 1mg/kg. b. wt. was highly effective against Boophilus and Hyalomma tick infestations in cattle and buffaloes. This drug when used @ 2mg/kg b.wt. was also highly effective against sarcoptic mange in pigs as it resulted in complete elimination of the mites with 100% clinical recovery after its second application on day 10 post treatment.
Cypermethrin @ 5ml/lt as swab application and foramectin @ 1ml/50 kg b. wt. s/c were found to be 100% effective against 'blow fly strike' in sheep and are recommended for field use.
The most prevalent ascariosis disease in buffalo and cow-calves can effectively be controlled by deworming the calves at the age of 11th and 30th day be larvicidal drugs like fenbendazole (@ 5mg/kg b. wt.) and levamisole (@ 7.5 mg/kg b.wt.). Repeat at one month interval till 3 months of age.
Studies pertaining to anticoccidial drug resistance have indicated that the continuous use of commonly used drugs like clopidol, maduramicin and salinomycin has resulted in the emergence of resistant strains of the causative agent i.e. Eimeria tenella. Further, the efficacy of monesin was also not upto the mark.
To overcome this problem of anticoccidial resistance, the studies conducted indicate that the feeding of neem leaf powder. @ 7mg/kg b. wt. atleast for 15 days to broiler chicks in feed will certainly be effective in controlling the caecal coccidiosis.
Out of the twenty one field trials conducted to study anthelmintic resistance against morantel citrate and ivermectin in sheep flocks of Sirsa, Bhiwani, Fatehabad, Rohtak and Jind districts, worms of none of the sheep flocks were found resistant to these drugs. The results suggested that both the drugs can be used to treat the sheep of unorganized sector in these districts.
MAb-LAT (monoclonal antibody latex agglutination test) for the diagnosis of Trypanosoma evansi was developed.
Buxtonella sulcata (previously considered as Balantidium coli) is a major gut protozoa in ruminants in Haryana.
Schistosoma nasale has neen reported for the first time in Haryana in Shivalik hills.
The GIS and remote sensing based map of snail-borne diseases of livestock in Haryana was prepared and validated on ground truth collection.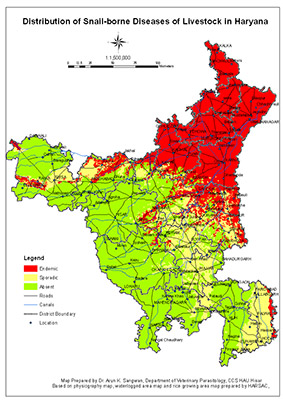 Elite Murrah Breed Tract in Haryana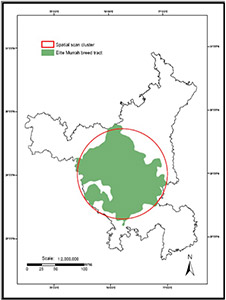 Post graduate students/ Research Assistants/ Senior Research fellows
Dr. Pardeep Kumar, Ph.D. student
Dr. Diksha Sharma, Ph.D. student
Dr. Santosh, M.V.Sc. student
Dr. Rashmi, M.V.Sc. student
Dr. Shekhar Rana, M.V.Sc. student
Ongoing projects
Studies on epidemiology, pathobiology and integrated management of animal and poultry parasites in western Haryana.
Strengthening of Diagnostic facilities for vector borne haemoparasitic diseases and creation of awareness among farmers for disease control.
Completed projects
Parasitological Research Station Uchani (Karnal), sponsored by Government of Haryana, Principal Investigator- Dr. R.P. Gupta, State funded Non-plan, Now merged with other scheme with redefined objectives
Ecology and control of ticks, sponsored by Government of Haryana, Principal Investigator -Dr. M.B. Chhabra
Immunoprophylaxis against Haemonchus contortus in sheep, sponsored by Hindustan lever Research Foundation, Principal Investigator Dr. D.P. Banerjee
Efficacy of Bayticol (Flumethrin pour-on) against ectoparasites of livestock, sponsored by Bayer India Ltd., Principle Investigator - Dr. S.K. Gupta
Immunization of cattle against Hyalomma ticks, Sponsored by D.B.T. (GOI), Principal Investigator- Dr. D.P. Banerjee
Studies on Toxocara vitulorum infection in buffalo calves, sponsored by Government of Haryana, Principle Investigator- Dr. S.S. Grewal
Evaluation of CDRI compound 81/470, broad spectrum anthelmintic against sheep & poultry helminthes, sponsored by CDRI, Lucknow, Principal Investigator- Dr. S.S. Chaudhri
Control of parasitic diseases in Haryana, sponsored by NARP (ICAR), Principal Investigator- Dr. R.P. Gupta
Immunodiagnosis and epidemiology of schistosomosis in ruminants, sponsored by NATP (ICAR), Principal Investigator- Dr. S.S. Chaudhri
Studies on ecto-parasitic diseases of freshwater fishes with special reference to crustacean infections, sponsored by Government of Haryana, Principal Investigator-Dr. Rajinder Kumar
Strengthening of diagnostic facilities for parasitic diseases, sponsored by Rashtriya Krishi Vikas Yojana (RKVY), Principal Investigator-Dr. Arun K. Sangwan
Molecular prevalence and phylogeny of ixodid ticks and tick-borne haemoparasites of cattle and buffaloes of Haryana, Principal Investigator – Dr. Aman Moudgil
List of Instruments costing more than 2 lakhs