Livestock Production Management

About Department
The department is involved in teaching of 19 UG courses (for Veterinary, Agriculture, and VLD Diploma) and 23 PG courses (for Veterinary only). Besides this, internship training, farm practical training, self employment training, livestock farm practices and animal farm training are being undertaken by the department regularly. A total of 243 students completed their post graduation degree (M.Sc/MV.Sc and Ph.D.) from the department of LPM. Sindce inception of LUVAS in 2010, this department has awarded M.Sc/MV.Sc and Ph.D. to 33 and 7 students, respectively. The faculty of the department has published eleven books, twenty five book chapters, nine practical teaching manuals, eight bulletins/booklets, seven training course compendium, organized three workshop/conference/seminars, three summer Institute, eight training courses and granted one patent.
Head of the Department :
Dr. Suresh Kumar Chhikara
Phone (O): 01662-256113
Fax: 01662-234613
E-mail: hod.lpm@luvas.edu.in

Supporting staff
| | | |
| --- | --- | --- |
| Sr. No. | Name of the employee | Designation |
| 1 | Sh. Ram Kumar | VLDA |
| 2 | Sh. Satish | VLDA |
| 3 | Sh. Dharmpal Singh | VLDA |
| 4 | Sh. Ravinder | Assistant |
| 5 | Sh. Govind Saran | Clerk |
| 6 | Sh. Sandeep | Clerk |
| 7 | Sh. Sanju | Steno Typist |
| 8 | Sh. Parveen | Messenger |
| 9 | Sh. Vikas | Lab Attendant |
| 10 | Sh. Jogi Ram | Lab Attendant |
| 11 | Sh. Sanjay | Lab Attendant |
| 12 | Sh. Krishan Kumar | Security Guard |
| 13 | Sh. Surender Kumar | Beldar |
| 14 | Sh. Surender | Beldar |
| 15 | Sh. Rishal Singh | Beldar |
| 16 | Sh. Shamsher Singh | Beldar |
| 17 | Sh. Kuldeep | Beldar |
| 18 | Sh. Jokhu Ram | Animal Attendant |
| 19 | Sh. Nafe Singh | Animal Attendant |
| 20 | Sh. Naresh Kumar | Animal Attendant |
| 21 | Sh. Randhir Singh | Animal Attendant |
| 22 | Sh. Jagdish | Animal Attendant |
| 23 | Sh. Suresh Kumar | Animal Attendant |
| 24 | Sh. Ajay Rana | Animal Attendant |
Vision of the Department:
Mandate of the Department
A. HUMAN RESOURCE DEVELOPMENT
To meet out the requirement of Animal Husbandry Deptt., Industries and Research & Development Institutions.
B. CONDUCTING INNOVATIVE APPLIED RESEARCH
In the area of Livestock and Poultry Production Management
C. TRANSFER OF TECHNOLOGIES
To the livestock owners through extension services, trainings, Print and Electronic Media, etc.
FOCUS AREAS
A. TEACHING
Accomplishing the Vision and Mandate of the department
for Human Resource Development.
FOR CLASS ROOM TEACHING: Modern Teaching Aids like Multimedia projector, Interactive Board & Panels, Visualizer, Power Point Presentation etc.
ON-FARM-PRACTICAL TEACHING:Handling & Restraining, Identification, Judging, Milking, Feeding, Reproduction, Shelter, Labour Management, Management of calf, heifer, milch animals and other categories.
Management of poultry Species.
Student Practical Training
(B) RESEARCH:
Schemes and on-going research projects:
External funded Research Projects:
| | | | |
| --- | --- | --- | --- |
| Sr. no. | Title of the project | Funding agency | Date of Start |
| 1. | Network Project on Buffalo Improvement | State +ICAR | 1992-93 |
| 2. | Development of various buffalo production and management modules for different category of dairy farmers | RKVY | 2021-22 |
State Plan & Non-Plan Research Schemes:
| | | | |
| --- | --- | --- | --- |
| Sr. no. | Title of the project | Funding Agency | Date of Start |
| 1. | 150 C (a) LPM-2 Plan (Vety.) Strengthening of Buffalo Research Centre | State | 2007-08 |
| 2. | 151 C (a) LPM-3 Plan (Vety.) Quantification of Management Practices for Livestock and Poultry | State | 2010-11 |
Institutional Research Project:
| | | | |
| --- | --- | --- | --- |
| Sr. no. | Title of the project | Funding agency | Date of Start |
| 1. | Livestock waste utilization through establishment of vermicompost unit. | LUVAS | 2021-22 |
(C) EXTENSION:
Department keeps Close Linkage between Research Systems and Clientele with the Help of Well Established Directorate of Extension education.
Extension activities through participation in Krishi Mela
Dissemination of technologies through trainings organized by different agencies.
Training of SC women under SCSP Programme (NWPBI-ICAR) organized by Department of LPM
Experts lectures on livestock and poultry are being delivered as and when required in the training camps organized by different agencies.
Electronic And Print Media developed for Transfer of Technologies for the Users. Technical inputs are also provided to the farmers through electronic and print media
Supply of germplasm to farmers/panchayat for breed improvement :
Supply of improved germ plasma of Murrah Buffalo Bull to panchayats at the cost of 50% of book value.
Auction of surplus animals through open auction by advertisement in newspapers/All India Radio, Hisar/Doordarshan, Hisar
Dairy and Poultry farming are important sectors of agriculture. Entrepreneurship in dairy and poultry can bring socio-economic improvement of rural poor. The role of management in economic production of livestock is very important. The department started functioning from December, 1968 and is playing a vital role for training young men and women in the scientific management of herd and flocks, to equip them for self- employment, to adopt livestock husbandry as profession, to become inquisitive and seek truth through research and production of livestock to make them good salesmen of the latest findings to the farmers.
LUVAS buffalo farm under this department was awarded with "Best Murrah Center" under Network Project on Buffalo Improvement for the year 2016-17.
H.K. Gulati received National Fellow award of ISAPM and Dr. R.S. Yadav was awarded Life time achievement award in the 27th annual convention of Indian Society of Animal Production and Management and National Conference on "Paradigm shift in Livestock Management to obtain high quality animal Products for enhancing farm economy and entrepreneurship" held at PGIVER (RAJUVAS), Jaipur from 4-6 February, 2020.
Vishal Sharma, Assistant Professor, Granted Patent for an invention entitled "A DIETARY SUPPLEMENT COMPOSITION FOR TURKEY BROILERS" from Patent Office, Government of India (Patent No. 352685) on 30/11/2020.
Buffalo Production :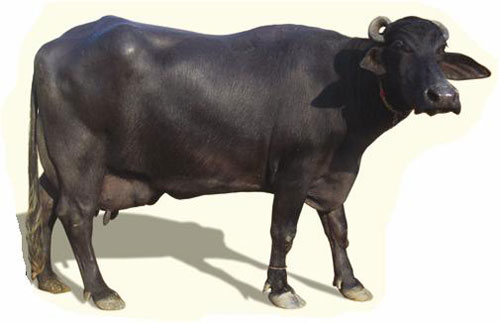 PRIDE OF HARYANA - MURRAH BUFFALO
Housing Management
A decade research work on buffalo housing indicated that loose housing system (open type) was superior than conventional barn in terms of growth, feed efficiency, milk production, physiological response and health status in semi-arid regions of India.
The experiment conducted on lactating buffaloes during summer and rainy season on housing management indicated that buffaloes maintained in loose housing system consumed significantly (P<0.5) more (9%) dry matter and produced more (14%) 6% fat corrected milk (FCM) than their counterparts, maintained in closed barn. Similarly loose housed buffaloes had better physiological, biochemical and general health status than those kept in closed barn.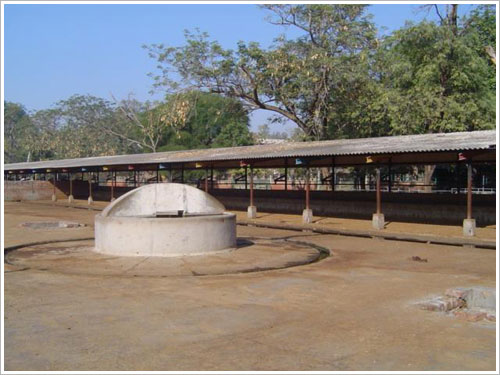 Loose Housing System
Summer Management :
Several experiments were conducted to evolve useful summer management systems for growing as well as milch animals. It was observed that buffalo heifers sprinkled with water during hottest part of the day and protected from direct solar radiation by covering with double layer of Hessian cloth shed attained approx. 16% higher weekly gain in live weight than unprotected group. Further these protected heifers calved at an early age and their first lactation milk yield (300 days) was significantly (P<0.05) higher in protected group compared to unprotected group of buffaloes. The calving interval was also less (427 days) as compared to unprotected animals (514 days). Use of simple sun-shade to protect from solar radiation and water sprinkling at 2 hour intervals during summer days resulted in reducing heat stress as shown by physiological reactions and increased growth rate.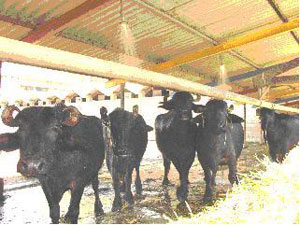 SUMMER MANAGEMENT
Winter Management :
Provision of bedding and jacketing of Un-weaned buffalo calves during winter helped in faster body weight gain and better feed utilization as compared to calves not subjected to such management facilities. The cost per kg body weight gain was also less in bedding and jacketing group compared to control.

Age at first calving in buffaloes has been achieved 41.4 months. The average total milk yield and average 305 days milk yield has been achieved as 2389 and 2266 kg. respectively. The average peak yield, wet average and herd average are 12.5 kg and 7.9 kg and 5.2 kg, respectively.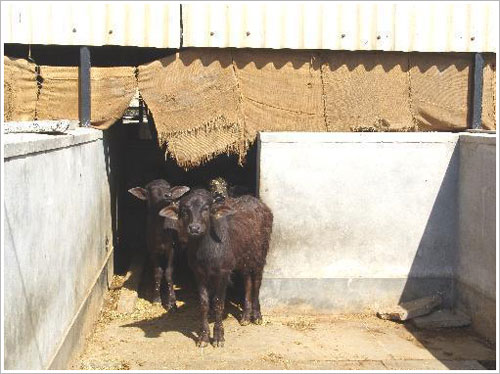 WINTER MANAGEMENT
Poultry Production :Chicken :
The performance of broiler in terms of body weight gain, feed consumption and feed conversion ratio was improved replacing 50 percent maize of broiler diet by wheat/paddy (jiri). Hen day egg production and egg weight of pullets improved (P<0.05) on the supplementation of Ascorbic acid in feed during summer season.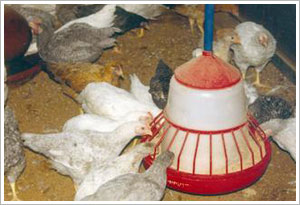 BROILER MANAGEMENT
There was beneficial effect to use water having sodium bicarbonate (1000 mg/litre) for boiler raising during summer season.
Duck, Turkey, and Quail:
The varieties of White Pekin duck and broad breasted large white, Beltsville Small White and Broad Breasted Bronze turkeys, and Japanese Quail were successfully adapted to Hisar climatic conditions and were released to the farmers of the State and the country. It was established that White Pekin ducks could be reared even in confinement just like chicken.
Duck Farming Quail Farming
Turkey Farming
Recommendations generated for field application
Reduction in age at first calving, morbidity and mortality in calves and clean milk production
Balanced feeding (2 kg concentrate with 25 g of mineral mixture daily + ad lib. green fodder) and by adopting improved management practices such as water splashing 2-3 times during the hotter part of the day, cool hour feeding, provision of fresh drinking water and modified roofs to the growing buffalo heifers, puberty and maturity weight (300 kg) could be achieved at an early age of two years and effective in reducing the age at Ist calving. The service period and calving interval in the post-partum lactating buffaloes was also lowered.
Provision of bedding, jacketing and curtains to protect young buffalo calves from severe winter which helps in reducing calf morbidity and mortality.
Washing of udder with KMnO4 solution before and after milking helps in reducing the incidence of sub- clinical mastitis in buffaloes and reduces SPC count in milk.
Breaking in practices in pregnant buffalo heifers approximately one month prior to the expected date of calving (tying of heifers, washing, grooming, massage of udder, teats and feeding concentrate individually etc.) significantly increased motherability, heavier and healthy calf at birth, milk production and lactation length.
For best economic output fish meal should be used in the conventional concentrate ration as a natural bypass protein source for the growing buffalo calves.
Addition of bypass fat@ 150g daily is recommended for getting better revenue from lactating Murrah buffaloes.
Ajwain in feed @ 0.1% acts as efficient, effective and economical alternative to antibiotics growth promoters (AGP) in broiler industry.
Chelated minerals should be replaced 100% against inorganic mineral for better performance in buffalo calves.
The effect of "typha" (Patera grass) roof insulation to ameliorate thermal stress during March, April, May and September, October and November months in Murrah buffalo calves housed in loose housing system showed significant improvement in body weight gain.
The new born murrah buffalo calves (male and female) should be housed and fed separately and male calves should be fed with feed one day prior to female calves in large buffalo farms where ample calf housing facility exist. Further the prior initiation of feed eating and mastication of cud by the male calves over female calves may be due to higher body weight of male calves.
The broiler may be reared safely and economically on chaffed wheat straw litter amended with superphosphate at 14th day of rearing and after six weeks of rearing, ensiling of used litter material for three weeks duration with inoculation of fermented milk proved helpful in retaining much of the nutritive value of the litter.
For the selection of Murrah buffaloes thin skin at neck region, broad muzzle, wide abdomen and wide distance of hip bones should be considered.
Inclusion of mustard cake as sole source of protein in the concentrate for growing buffalo male and female calves is economical as compared to soyabean meal, ground nut cake, cotton seed cake as well as combination of these protein sources.
Supplementation of 1% Indian gooseberry and 0.05% multi-enzyme in the ration of broiler chicken is economical during hot weather condition.
0.5 % Amla and 0.5 % Ashwagandha with 0.25 % or 0.125 %
Increased frequency of bathing (four times) helps in improving the microclimate condition by reducing the overall THI in summer.
Poly-herbal mixture supplementation just after parturition has beneficial effect on production and reproduction parameters
Wheat straw in short run and rubber mat in long run are effective bedding material for calves in winter.
1% aloe vera can be supplemented in the diet of layers as a replacement to antibiotics for getting antibiotic free eggs.
Supplement of aloe vera @ 4g/kg body weight is recommended as a growth promoter and immune booster for buffalo calves.
| | |
| --- | --- |
| | |
| Visit of Students of Veterinary College, Anand Agricultural University, Gujarat | Visit of Students of Veterinary College, CSK Himachal Pradesh Agricultural University, Palampur |
Visit of foreign delegates at buffalo farm of the department

Post graduate students/ Research assistants/ Senior research fellows
| | | |
| --- | --- | --- |
| Sr. No. | Name of the student | Admission No. |
| 1. | Komal | 2019V17D |
| 2. | Sagar Kadyan | 2019V19D |
| 3. | Amandeep | 2021V06D |
| 4. | Mukesh | 2020V08D |
| 5. | Donthu Sai Pranathi | 2021V23D |
| 6. | Kavita | 2020V14M |
| 7. | Mohammed Ishan Hashmi | 2020V15M |
| 8. | Neha | 2020V20M |
| 9. | Ashish | 2021V09M |
| 10. | Karamjeet Singh | 2021V10M |
| 11. | Vivek | 2021V11M |
| 12. | Neha | 2021V48M |